4 Tips for buying a tractor
Tractors and other farm machinery are versatile tools that require being chosen and purchased carefully. When purchasing a tractor, the choices are often dizzying, and making a choice for the ideal tractor to purchase can be quite overwhelming. It is important to note that the cost and prices of tractors rival the cost of most cars. As such, investing in a tractor merits significant consideration, research, and decisiveness. Before settling on any tractor, you need to know what you are looking for in the tractor of choice. Tips for buying a tractor that you can use include:
Check hydraulic power
If you are buying a second-hand tractor, you need to be careful and very attentive when checking the hydraulics of the tractor. Look for leaks, signs of damage to the hydraulic system, and poor seals. However, when buying new tractors, you need not pay much attention to the hydraulics as they are factory inspected and tested before the tractor is put on the market. Ensure that the tractor you are buying has the right number of outlets as well as lines depending on your intended use of the tractor.
Condition of the PTO shaft
The PTO (Power Take-Off) shaft of a tractor requires being in a pristine condition for the tractor to perform optimally. It is advisable that you only purchase tractors with higher PTO power specification than you need. Such tractors possess the potential of handling large jobs in the future if you expand your scope of operation. If it is a used tractor, check if the PTO shaft is rotating smoothly, whether it is producing any noises while rotating, and if there are any leaks on the shafts. Replacements and repairs on the PTO shaft can be quite high and unmanageable especially for people with limited finances.
Check engine
What is the capacity of the engine in the tractor of choice? Are there any leaks and odd sounds coming from the engine? How much horsepower does the engine give out? Does the engine meet the provisions and standards of emission within the region where you are planning to use the tractor? These factors are crucial to the performance of the engine and that of the tractor too in general. It is advisable to hire the services of a mechanic to inspect the engine especially if you are not well conversant with the functioning of a tractor engine.
Body, tires, and general appearance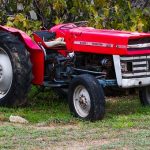 Is the used tractor you want to buy well maintained? Check if there are any peeled off paints, dents, and weathered/rusting parts of the tractor's body. You also need to check whether the tires are worn-out or if they are well-threaded. The cost of tractor tires can be high and ranges from a few hundred dollars to several thousand dollars. Replacing the tires in a tractor and having it repainted can cost as much as $30,000 depending on the tractor. If you are buying a new tractor, then you need not get worried about the condition of the tires, and that of the body as these parts are usually new.…